Hi guys, So my beginning starts with being a French Man, With a simple dream of getting some ducats together and sailing the seas.
I had no ducats to even buy goods/ship/home. so I did what every good sailor does, I went to the Maritime School, of course I knew it all already. but I heard rumors that the school took in sailors and gave them ducats and a ship as graduation present.







After I graduated, I went to the Merchant Guild to look for work.





So for a while I delivered some barrels/crates/items for some nobles/clients that the Merchant Guild gave me.





After a while, from taking jobs from the Merchant Guild. I picked up a few things along the way.. Trade Routes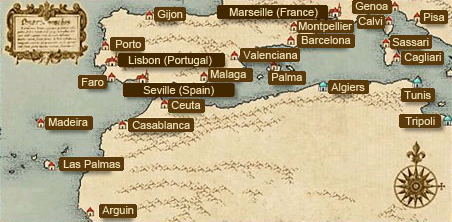 So I hired some sailors and got some goods from the market and headed from Marseilles->Montpellier->Barcelona and sold the goods in Algiers.
It was a simple Captain's life.



Angeal



One day in town, I met this man named Angeal, a pirate..
He oppend my eyes to a whole new world..



 Seville



So Angeal took me to Seville and told me how it was a market, etc..



BlackSailRevenant



Angeal had convinced me to join his Pirate Company!!!



 GaiN



soon after I joined, I met GaiN.. he took me to one of the best dungeons to rank my trade to 52 so I could get my beauty Trading Clipper!!



 Whitecrow



So a bit after that, I met Whitecrow and old player coming back after some time gone. he thought me a bit bout Adventure, and got me some dungeons too.
(One day, Whitecrow just stopped getting on.)